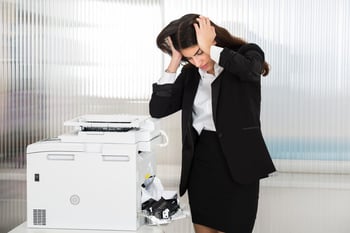 Like it or not, Connecticut small businesses still tend to rely on paper. Even with the growing adoption of paperless processes, most businesses continue to consume reams of paper for reports, purchase orders, paper records, mailed invoices, and a variety of routine business applications.
The more paper your CT small business generates, the more important your office printers are. When a printer fails, it can have a dramatic impact on business productivity. That's why many business owners have on-call IT support to keep printers running.
Despite the increased adoption of digital technology, the average office worker still consumes more than 10,000 sheets of paper each year. That translates to 4 million tons of copy paper. In fact, the average office document is reproduced an average of 10 times. More than 28 percent of all U.S. paper production is for office or copy paper; the only category that is higher is the production of containerboard at 31 percent.
Connecticut small businesses are big consumers of printer paper. There are 86,000 Connecticut small businesses, and it's estimated that Connecticut's small businesses go through approximately 15,600 tons of high-grade white office paper each year.
Clearly, paper fuels business, and when document production grinds to a halt because of a printer failure, productivity is dramatically affected. If you have multifunction devices, such as printer/scanner/copiers, the impact will be even greater since the equipment is being used for multiple office processes.
Printer Service Options
As office printing technology becomes more sophisticated, the cost of printer hardware continues to rise, which means it takes longer to amortize printer costs. At the same time, manufacturer warranties have not changed, so when your warranty expires, you have no choice but to call in a repair service.
Of course, you can purchase the manufacturer's extended warranty and maintenance plan, but how does that cost balance out when you have multiple machines from multiple manufacturers? Can you justify the cost of multiple maintenance plans?
You also have to ask yourself about the cost of printer downtime. If, like most companies, your small business relies largely on paper, how much revenue and productivity are you likely to lose from printer downtime? Will you be able to get speedy service from your manufacturer's maintenance plans to keep your operation running smoothly?
Three Connecticut Small Business Examples
There are dozens of things that can go wrong with your office printer, and most of those problems can be solved quickly and efficiently by a trained printer maintenance service, or your local managed IT service provider. Here are three examples of routine printer problems that NSI's clients encounter every day:
1. One of our customers in Cheshire had a printer displaying a message that it required maintenance. This is a common error message. When a printer reaches a certain number of printed pages it generates a service message to address anticipated wear and print quality issues. We can quickly solve the problem with a maintenance kit or, if service isn't needed, by resetting the counter.
2. In Windsor, we had a customer who reported that the printer was making noise, which could indicate any one of a number of problems. For example, the rollers could make a noise, or even the toner. Many printers have a swing plate assembly, and a grinding noise is an indicator it needs repair. We were able to diagnose and repair the problem in one visit.
3. In Hartford, a customer reported an Error 49.x on their display. This message usually indicates a corrupted print job stuck in the queue. If it's a shared printer, it could be generated by any one of the printer's users. The fastest way to clear the error is to disconnect the printer from the network, reconnect the power, and test it. This kind of printer troubleshooting can be done over the telephone, assuming you can call someone who knows the hardware and the error code.
In each case, we were able to diagnose the problem and get their printers back online quickly and cost-effectively. Having a printer maintenance contract with a managed service provider can save your small business time and money.
Managed service providers can not only provide printer support faster and more efficiently than most manufacturer service contracts, but they also can perform routine maintenance and upkeep, and even provide printer supplies. We work with a variety of Connecticut small businesses, and after a cost analysis, they have all found that they save money with NSI support services.
You know how important printing is to your business. A contract IT service can simplify printer maintenance and ensure that you have a working printer when you need it, such as when you need to print that next proposal or send out invoices. If your business runs on paper, then you want to make sure your printers are ready when you need them. That's our job!