Most entrepreneurs don't start a business because they love to monkey around with IT Support.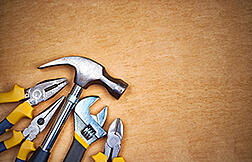 And while there are some small businesses proprietors who are more intimate with technology, most business owners see technology as a "can't live with it, can't live without it" necessity that just keeps getting more and more costly.
When those costs start taking chomps out of profits, small business owners must decide whether to call in a professional for an assessment or try and get things under control with an in-house team.
Many entrepreneurs and small business owners are also avid do-it-yourselfers, and it's often not until there's some serious and complex breakage, or a project ends up Dead on Arrival (DOA), that they'll wake up and acknowledge they need help. Once it's determined that an IT assessment is required, there are number of questions to consider.
Who ya gonna call?
If you plan on maintaining the in-house status quo, now would be a good time to ask yourself the following questions:
First, what are you currently paying for IT upkeep? (If you can't put your finger on it, hang up and dial 911.)
Second, do you have a real IT professional on staff or just a geeky individual who likes to fix things? Is this "IT guy" constantly buried? Are problems slipping through the cracks? Are you then bringing in outsiders to patch things up?
Yes? Then now must now ask yourself:
Do you want to hire and fire IT professionals?
Do you enjoy staying on top of evolving technologies?
Is your infrastructure optimized and your data secure and recoverable in case of disaster?
Could you handle a growth spurt? A relocation? A merger?
What about other staff versus outsource considerations?
Salary/benefits
Scheduling around vacation, training, and illness
Turnover
Training
Cost of equipment and other supplies
Regardless of how much you might enjoy solving technical problems, if technology isn't your core focus it can distract and detract from growing your business.
You're already convinced that the current cost and internal maintenance of IT is killing your profitability. You know there are savings to be had, but you need help finding a cost-effective solution. It can be a little overwhelming, so keep it simple: take it one- step at- a time.
Begin by finding an IT service provider that can actually implement their recommendations. If you engage an independent consultant, you'll be taking an extra step and spending more than you need.
A one-stop shop like NSI can help assess your overall situation and determine which options make the greatest financial sense.
You may decide to sign up for NSI's TotalCare IT Support package for one flat, monthly rate and bag the DIY approach altogether. The important thing is to find a solution that fits your business model and lets you determine your level of IT involvement. If you're like most of our clients, you didn't go into business to monkey around with computers.