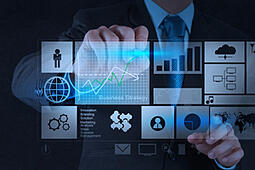 Small business owners tend to expect superhero efforts from their standalone IT systems.
At times, it's probably asking too much from individual systems to handle all the odds and ends of an IT network. Even when these systems save the day, those heroic efforts may not be sustainable. Still, businesses are always looking to get the most out of their technology without stretching their dollars too thin.
What if your organization was able to combine the forces of a reliable piece of hardware with a complete network solution?
You would be able to greatly simplify server ownership and provisioning while streamlining IT management complexity as a whole.
This is the dynamic duo scenario we are offering at NSI. By running a virtualized hardware platform that includes NSI TotalCare, small business owners will have their IT needs covered in every direction.
A small business server with VMWare is an adaptable, flexible, and scalable system that is perfect for businesses that need reliable server performance without all of the costs of similar enterprise solutions.
One of the biggest and most critical areas of concern for small business is uptime. Small business owners are under pressure when it comes to keeping their operations running without too many disruptions. A small business server / NSI TotalCare combo offers several uptime safeguards, including redundant hot-swap fans and components, as well as a resilient architecture, along with data backup and 24/7 remote monitoring.
NSI TotalCare is an all-in-one network services and solutions that bring together several critical business functions, including the following:
Backup and recovery
Proactive patches and updates
24x7 monitoring
Hardware installation, setup, and configuration
Virtualization infrastructure
Ongoing server management
Help Desk
Recognized as a Top 500 leading managed services provider, we have firmly established our position in the small business market. Our combined approach is the answer to the small business question, "How are other business owners managing their IT?" Taking our approach will enable small businesses (just like yours) to stay ahead of your competitors. Click here to learn more about our award-winning services.