The Cloud. It's the place to be. Perhaps Sir Richard Branson will find a way for us to tour the cloud. If anyone can find a way, it's him.
We use the cloud when we put gas in our car. We use the cloud to pay our bills (even if you are sending a paper check, funds are transferred through the cloud by the banks and corporations that process payments).
Small businesses get their ITSupport from the cloud, and what used to be hardware reliant is now cloud based technology for things like phone systems, security systems, and disaster recovery solutions. We have meetings in the cloud, doctors perform and consult on medial procedures, and collaboration, crowd sourcing, problem solving and education are all happening in the cloud.
Our New Haven neighbors, Square 9, know all about the cloud. Square 9 is an award winning developer of Document Management Software solutions that can be easily adopted to automate paper intensive processes. The company's Smart Search solution is easy to implement, easy to use, and scalable to meet the needs of any size business. They offer an online video demonstration showing just how easy it can be.
Is Cloud Based Document Management right for your business?
Here are a few things to consider:
Hosting
Your Data Connection
The Size of your Documents
Square 9 recommends the following:
Organizational Resources
A smaller organization with limited IT resources will likely want to take advantage of a highly managed cloud model where the application and the server are both serviced fully. This could mean leveraging a true managed services provider who will take over the administration of your application as well. A larger organization on the other hand tends to lean towards using their resources to self-service the application. The advantage of the cloud here is to eliminate the cost of procuring and servicing network equipment including the management of a backup strategy. The good news is that there are typically a wide ranges of service offerings you can configure to meet your specific needs.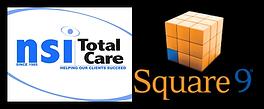 With solutions designed for the small business, both Square 9 and NSI work to find the best use of your current infrastructure. Both companies leverage your current technology to get maximum use out of the stuff you already have, which is why we like Square 9's approach in achieving our goal of helping our clients succeed.