I recently overheard an employee talking about a salon she visited, and she was enthusiastically explaining how the owner organizes fundraisers, chooses environmentally friendly products that are free of harmful chemicals, and offers excellent prices. Clearly, she was "recruiting" her colleague into becoming a client of this establishment because she was so happy with her experience.
Isn't that what every business owner wants - an evangelistic frenzy around their product or service? Guy Kawasaki, Apple's former Chief Evangelist wrote: "There are two kinds of people on social networks: those who want more followers and those who are lying."
No matter what kind of business you are in, there are opportunities to serve, save, share with the community, and fellow business owners. Here are some small business tips on how to do just that:
What's Local, Green, Community Focused, and Good for Business? YOU!
SERVE
Become a public speaker. You can serve your community through public speaking. You would not be in businesses if you were not adding value, in some way. What is your value-add? Talk about it.
Auto Mechanic: Talk about changing oil, synthetic oil types, and keeping your tires inflated properly. Do you really need to use premium gas? Keep it simple.
Gift Shop Owner: Talk about gift giving and ideas on how to plan ahead for birthdays, and holidays. What kind of personalization options are there? What sells? What is popular with specific age groups?
Every business owner has something he or she can contribute on a basic, general level. Don't over think it. I speak as often as I can, and most of the time it is to small business owners who need the basics: network support, data backup, and someone to call when they have a problem. Simple, but very much needed.
SAVE
Go Green. Going green is here to stay. What does your company do to help the environment? Advertise it. If you are a clothing store and you recycle clothes hangers, let people know by labeling a box: RECYCLE, and putting your hangers in it. Let's stick with the two examples above.
Auto Mechanic: You recycle oil. Yes, it is a law, but it is still recycling. Checking tire pressure saves gas, which helps the environment. Make a sign: "Ask us to check your tire pressure, it saves gas and increases the life of your tires." Congratulations! You're green.
Gift Shop Owner: Are any of your products printed on recycled material? Let people know. Do you recycle paper or any kind of trash or packaging? Make a label for that container, so people see that you do this. How do you think that the employee knew the salon products were environmentally friendly? She read it on a small sign posted at the front desk, "ask about our environmentally friendly products".
NSI's TotalCare is green because it is a service we can deliver remotely. And, if we need to go on site (which sometimes we do), we have Prius cars. Calling our help desk for remote network support, and asking a tech to log in to your PC and fix a problem is green on many levels.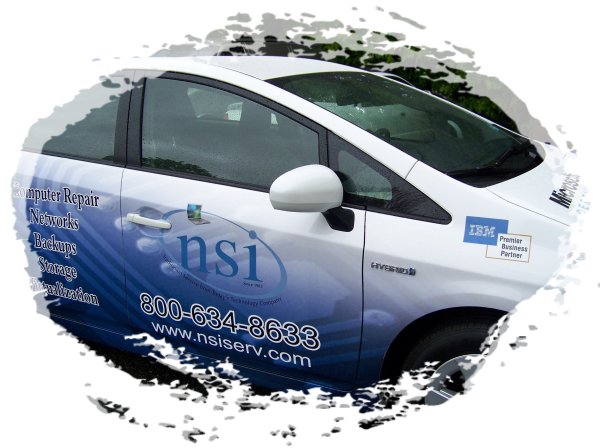 SHARE
Ask vendors and customers to speak at your business events. If you are an Auto Mechanic, ask the vendor for your tools, tires, or windshield wipers to speak on behalf of your company at an event.
If you own a gift shop and you have a regular customer who is an attorney, ask her to speak with your employees at your next meeting about the importance of having a will. Or, ask your insurance agent to join in and explain policy "gotchas" or flood insurance pros and cons.
If you are using social media, look for blogs written by your customers and vendors and promote them, if they are active and maintain quality content. We tweet about our customers, vendors and local business owners and their successes as often as we can. Follow us on Twitter so we can promote you! @NSIServ
There are things we do as business owners that creep into the "habit" or "day to day" and get overlooked as not having value. Look for opportunities to serve, save, and share.