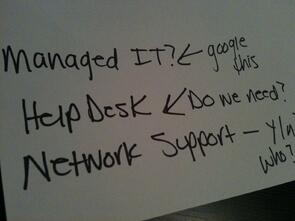 What are Managed IT Services, Managed Services, Remote Monitor and Remediation, Remote IT Solutions, Help Desk Network Support Services? So many terms…
Do they all mean the same thing?
How do they work?
Why would I want managed services?
Here at NSI, our TotalCare Department provides managed IT services to our clients, and still… we struggle to explain them, effectively. Even the WIKI has a definition that barely skims the surface.
Enter NSI's latest Video: "What is Managed Services". This video is a tremendous leap forward in our ability to offer a clear, simple, informative view, and it answers the question we hear often:
"What the heck are you talking about?"
Learn More: Watch Video.