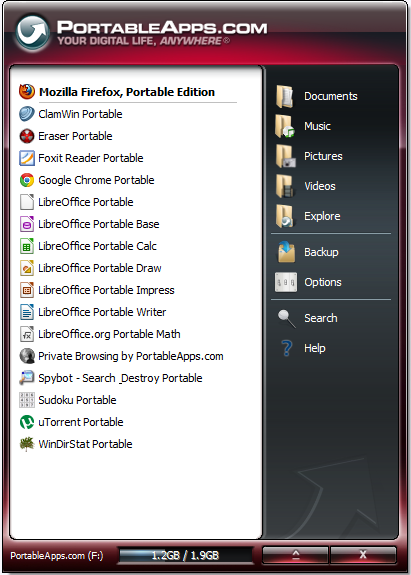 Hate having to sit down at someone's PC just to find that they don't have a common program you need in order to finish the job. PortableApps has you covered by allowing you to download and install a wide array of common programs onto a flash drive. PortableApps has a large library of preconfigured applications ready for install that can be taken anywhere with you. All you have to do is download the installer and choose any of the apps that have already been configured; this then installs them onto any flash drive you want and al the files are configured to work without needing any files from the Windows OS. Meaning that any app you use from the flash drive will run without needing to first install it on the computer your using, and it also won't leave behind any data when you leave.
PortableApps has both Chrome and Firefox as supported web browsers, allowing you to configure your browser with all the extensions and settings you need without having to mess with your friends/clients computer. What makes this even more powerful is people with privacy concerns who need to access a public computer, but would rather not use the web browser installed on the computer in fear of having their person info stolen.
Utility Knife
Power users are accustom to having certain tools at their disposal at all times, which tend not to be installed on the average user's PC. The most notable programs would be
Firefox (Web Browser)
Chrome (Web Browser)
OpenOffice (Office Suite)
Thunderbird (Email Manager)
Pidgin (IM Client)
KeePass (Password Safe)
ClamWin (Anti-Virus)
Spybot (Spyware detection)
FileZilla (FTP Client)
uTorrent (Torrent Downloader)
Skype (Video Chat)
Foxit (PDF Viewer)
Eraser Portable (File Eraser)
WinDirStat (Disk Usage Analyzer)
PortableApps has 100's of different programs, including games, to choose from and this is just a small list of the most notable ones. Having This on a spare flash drive give IT people a portable utility knife to use when visiting people who most likely don't have the software needed already installed to do the job.
Check out PortableApps and never be stranded without that one program you need the most.