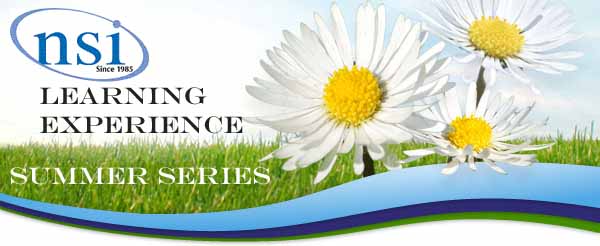 NSI will be hosting a series of events this summer with it's Learning Experience workshops.
All workshops will be free of charge and open to all. There is no limitation on how many you can attend.
Join us this summer for a workshop or two!
Enhancing Your Business Plan
In this workshop you will learn how to set business goals, align them, prioritizing projects and milestones while assessing your current IT environment.
Fundamentals of Running your Business – Tools for Success!
Learn what you need to ensure the success of your business? This overview touches on the topics of sales, budgeting, costing, pricing, financial statements, and more.
Marketing and Advertising 101
Come learn simple and cost effective marketing strategies that you can quickly and easily impenitent into your business.
Maintaining an Agile Company
Learn how to create a new image, reinvent through branding, tapping into customer tastes and how letting technology can make a difference.
Your Business Future: A Roadmap to Success!
Learn how to manage the curveballs, and unexpected changes and spin them to your advantage.