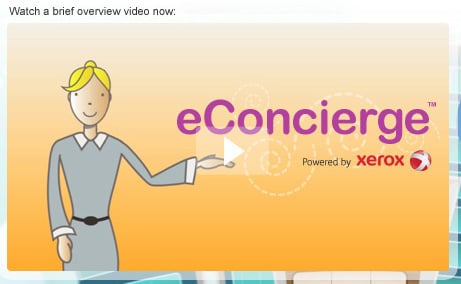 eConcierge CT - Don't you wish ordering toner was as simple as ordering a pizza?
Enter Xerox eConcierge, an entirely free way to reduce the daily headache of ink and toner ordering. It's now a one-click process. Free Software. Proactive. Convenient. Here's how it works:
You download the free eConcierge software, called the Supplies Assistant. (It can be installed on any computer connected to printers either locally or via the network.) This software lets you view and manage all of your printers and their toner levels, at a glance. When a printer is running low on ink, the Supplies Assistant will alert you. Then, (this is the "easy as pizza" part) it will automatically find the correct toner and set up a shopping cart for you. All you do is "click" and your toner is on its way to your door.
With eConcierge you'll never have to go searching for part numbers. You also won't have to risk getting stuck with no toner at the wrong time. The Supplies Assistant eliminates these worries and ultimately makes your job easier. I know you'll miss driving from one office supply store to another. NSI and eConcierge take full responsibility for any free time, peace of mind or missed fuel fill ups you may experience.
Click here to learn more today!