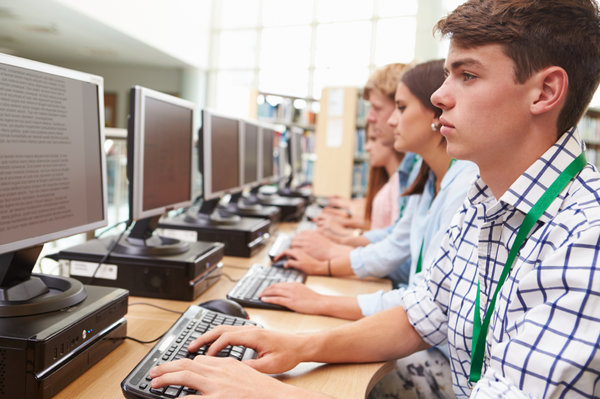 Technology in the classroom has been demonstrated to improve the learning experience. Students have become so used to using technology at home that extending that they expect to use that same technology for instruction, and teachers are finding new ways to apply technology to engage students in the classroom.

Statistics show that student benefit from using technology in the classroom:
A study in Auburn, Maine, reveals that kindergartners who use iPads score higher on literacy tests.
Medical students at the University of California Irvine who used iPads scored 23 percent higher on national exams.
A study of college students and high school seniors by Pearson Foundation shows that more than 60 percent agree that tablets help them study more effectively and perform better in class.
There are various technologies that help students learn more efficiently, but to use technology to maximum advantage requires an integrated approach.

1. Mobile Technology
The days of the computer lab are past. Today's students need to have the freedom to use technology at their desks, in groups, and as part of interactive instruction. That means adopting mobile hardware similar to the systems they use at home. Laptop computer and especially tablet computers are ideal for classroom instruction. Laptops can help students connect to a centralized network for data access, collaboration, and more. With tablet computers, students can be even more engaged using touchpad software, and the tablets are more rugged and less prone to failure or breakage than tablets. Tablets are increasingly being used to access electronic textbooks that are easier to update and come with interactive exercises to improve comprehension. They also can be used for streaming video, and even interactive lessons and presentations using tools such as Skype.

2. Wireless Networking
Effective technology in the classroom requires a robust wireless network. Using wireless data access for in-class instruction can be challenging, since you can have 20 or 30 students all vying for network access. School IT managers are using new technologies such as 802.11ac to provide more bandwidth and support more simultaneous users.

3. Web-Based Software
Network support gives students access to a new array of instructional tools. Most textbook publishers are now offering texts as eBooks that are easier to update and distribute. Students can access the Web to research new projects or share materials using tools such as Google Docs or Dropbox. The Google Connected Classroom and similar websites even provide virtual field trips so students can go virtually anywhere as part of any type of instruction.

4. Electronic Whiteboards
Interactive whiteboards are increasingly becoming popular for in-class instruction. These whiteboards replace the old-fashioned blackboards to provide an interactive interface to make lectures and instruction more engaging. Some companies offer integrated software that works with interactive whiteboards to share screens and content with tablets, so teachers can use them to supplement one-to-one instruction. And electronic whiteboards are ideal for multimedia presentations, including guest presentations using video conferencing.

5. Online Classroom Support
Since students are increasingly using the Internet for education, teachers are finding new ways to harness hosted services to extend instruction beyond the classroom. Using Wikis, classroom-created Web sites, and free file-sharing services teachers are posting homework assignments online rather than handing them out in class. Online collaboration tools also make it easier for teachers to grade papers and assignments, and work with students interactively on assignments. Many classrooms also are creating their own Wikis and websites to share assignments with one another, and to show parents what they are learning in the classroom.

Technology in the classroom is opening a variety of new doors to students while improving comprehension and classroom engagement. However, to be effective, you need to approach technology in the classroom as an infrastructure. Start with connectivity. Once you have a robust network infrastructure in place you can add digital whiteboards, tablets, laptops, and more, linking students to Web resources and promoting collaboration for more engaging instruction.

What other technology-based ideas have you used or seen that have increased student engagement in the classroom?