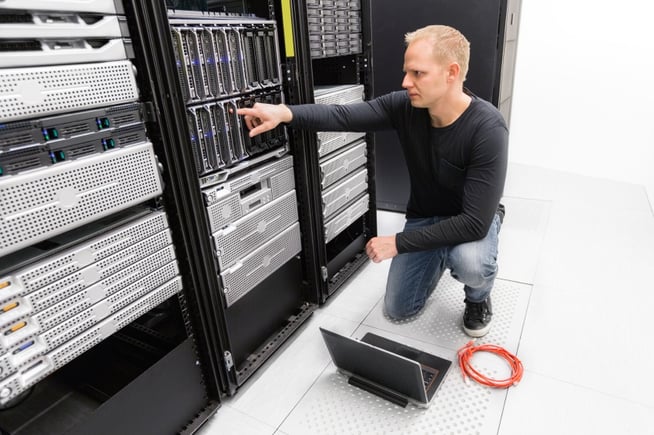 Hiring a new IT service provider is an important step for any small business. Bringing in the right person can reduce the burden that mismanaged IT services can have on a business, especially one that is trying to grow in a tough economic climate.
But don't worry, help is here. Before hiring a new IT service provider, put on your detective hat and ask the right questions to make sure the provider you pick is the right one for your company's needs.
1. Can you come to my office if need be? When a piece of technology at your business fails you don't want to spend your afternoon on the phone reading from a flow chart. What good does that do? It's likely that you want a trained professional to come to your office and fix the issue without a problem or to "MacGyver" any problems that come up.
2. Is there a limit on the amount of IT help I can get? This is another big differentiator in providers. Some will try to charge you for everything they do. Not only can this get costly, it incentivizes providers to not do a thorough job — like taking your car to a crooked mechanic that wants to keep you coming back time after time.
You want a provider that is not limited by the amount of help they can give or one that charges for the call. That provider will be motivated to work with you as a partner and best help your company, as they will want to work proactively to avoid future problems they will have to service.
3. What are the hidden charges? Hidden charges are an annoyance for your business with any purchase, but it can only get worse with IT. As with the amount of help you can get, you want a provider that will charge you a set amount for all the work they do. That ensures that they are working hard to make your technology runs properly as they have no incentive to do a less-than-superb job.
4. Is your business growing or shrinking? This is an important one for all businesses to ask themselves when they look to outsource their IT. A growing business needs its IT infrastructure to be able to grow along with it to support a larger employee base or new applications the business needs to run.
A shrinking business actually needs to invest more in IT. It may sound counter-intuitive, but think about it. If you just downsized your employee base, you will need technology to pick up as much of the workload as possible. That increased efficiency will help make up for the loss of employees in certain situations, so picking the right outsourced IT provider can make a major difference in how the company operates going forward.
As you can see, there are many key questions that you should ask when picking an IT support provider. While these are important, the provider should be able to clearly answer any question you have to your satisfaction. IT is likely not your business, but is a critical part of making it operate. Picking the right IT support partner can allow you to focus on growing your business and supporting your customers. Asking the right questions can help make that happen.