Prefer to read instead of watch the video? The rest of this post is for you then.
In 2018, NSI protected clients by recommending measures that worked well for blocking most cyber attacks. We did things like patching, encryption, added firewalls because these barriers were sufficient.
However, since hackers are getting more sophisticated and persistent, we decided that 2019 was the year to upgrade how we protect our clients.
We researched the wide landscape of security vendors to partner with and landed on two companies, Continuum and Webroot.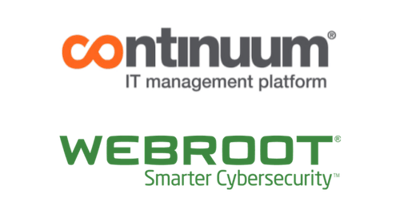 PROFILE & PROTECT [included with totalcare]
Risk Scoring and Threshold Alerts for NSI's Tech Team
Continuum's risk scoring and threshold alerts amounts to adding a whole cyber security department to NSI and here's how.
Continuum's security experts monitor threat vector profiles, like ransomware and data theft, and they update profile algorithms every 5 minutes. Profiles are compared against your system and end-point configuration in order to generate risk of a virus breaking in.
When your end-point or system risk score surpasses suggested industry benchmarks, Continuum alerts NSI, and this in turn enables NSI to adjust systems and devices to maximize protection in real time before attacks break through!
Webroot® Security Awareness Training Subscription
Security awareness training is an education process that teaches employees about cybersecurity, IT best practices, and even regulatory compliance. A comprehensive security awareness program should train employees about a variety of IT, security, and other business-related topics. These may include how to avoid phishing and other types of social engineering cyberattacks, spot potential malware behaviors, report possible security threats, follow company IT policies and best practices, and adhere to any applicable data privacy and compliance regulations (GDPR, PCI DSS, HIPAA, etc.)
For more information on security awareness training, check out this blog post.
Webroot® DNS Protection
DNS protection is a quick and highly effective way to secure the DNS protocol connection against cyber attacks. With advanced reporting on more than 80 URL categories, NSI can tailor web usage policies to client organization's unique needs and thereby reduce the risk of breach.
Webroot's Endpoint Protection
Unlike traditional antivirus, which focuses on blocking viruses from one vector or several vectors, Webroot's endpoint protection covers more potential entryways using machine learning.
If malware somehow breaks through, it stops the virus before it can execute in most cases. And if the virus is super advanced and still breaks through (this might happen in cases of brand-new, never-before-seen malware), Webroot will journal the file's activities and undo its changes to local drives, once it's determined to be malware.
Continuum's Detect & Respond Endpoint
The most complete and sophisticated solution for threat detection and attack remediation. Powered by SentinelOne, it provides SOC-supported endpoint monitoring, building on foundational security to rapidly identify and halt even the most troublesome attacks, minimizing harm and reducing risk to client environments. SentinelOne offers a $1M ransomware warranty.
Network & Compliance
This is the most comprehensive solution for businesses that need to meet critical compliance requirements. It utilizes industry-leading SIEM technology to collect, analyze and correlate information from network devices, endpoint logs and threat intelligence feeds. This enables you to provide alerting, reporting and log retention for common regulatory requirements, such as daily reports and threat analysis outlines for three regulatory standards: PCI, HIPAA and NIST 800.