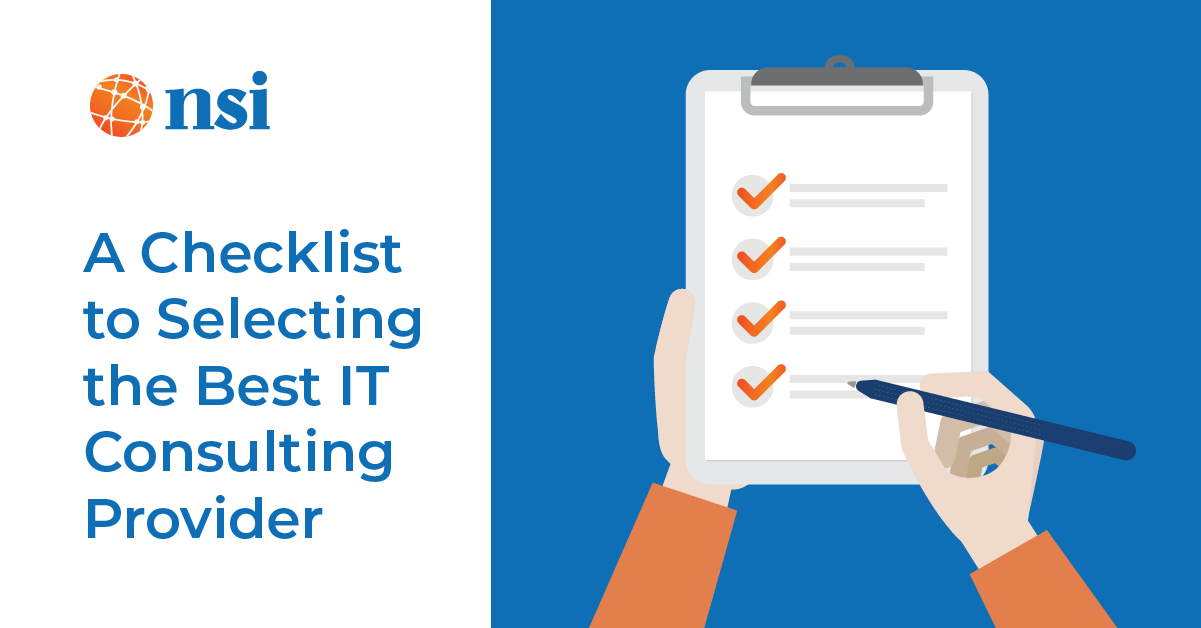 Choosing an IT provider is more than finding someone to help resolve network issues here and there. It's a partnership that, if it's the right fit, can propel your business to success in all areas. Now and in the future.
For example, NSI helped a startup that was growing rapidly. But onboarding employees was extremely time-consuming and inefficient. The new employees were rarely greeted with a new laptop on their first day.
With NSI working together with the HR department and business lead, we designed a new employee onboarding checklist to get employees up and running within the first hour.
This is just one example of how the right IT provider can benefit a business.
Let's run the checklist to ensure you select the best provider for you.
1. They bridge the gap between the executives and the IT professionals
When choosing an IT provider, the first thing you should look for is a firm that can help bridge the gap between executives and IT professionals. Bridging this gap means aligning executives, the people working on the business, with the IT Services Providers, internal IT, CIO, or IT manager working in the business.
Without this alignment, activities in both groups can be inefficient and slow to progress. And the solution often has a close person or team to help them communicate and solve issues as they appear. Getting help when you need it is important — but so is getting the right help.
A digital advisor is not a 'better' technology provider or a 'better CIO.' Rather, a digital advisor helps align the executives and the talented technology people in this complex reality.
2. They understand your business goals
A major force behind a great company is its IT operations. And more specifically, how technology works to support business goals. You can have all the tools and infrastructure there. But without this critical alignment, the tools might take you in the wrong direction.
A first step to ensuring a provider is prepared is to check if they offer vCIO services. The job of a Virtual Chief Information Officer, or vCIO, is understanding how businesses can leverage IT and technologies and offer strategic IT guidance, planning, analysis, and management.
The first meetings with your provider should be about understanding your company and its requirements, goals, and challenges in full. You might have bottlenecks or problems that stop you from scaling or reaching your goals.
And if you don't have all the answers, a great IT provider will help you see the big picture and define areas of improvement.
3. Do they conduct in-depth assessments?
The right provider should have a systematic approach to doing assessments and help you generate action plans to overcome challenges and problems. See if the provider uses assessment questionnaires, conducts interviews and devises action plans to help you reach your goals. If not, they're most likely winging it and may not be the right fit for you.
4. How does the IT provider offer added value?
Your IT solutions should work at all times. And yes, it's an IT provider's responsibility to ensure they do. But an excellent provider's duties exceed mere functionality. Look for the added value they can provide. Is there a well-trained technician team on board? How fast do they pick up the phone and help fix problems?
Other key areas to look for include timelines for upgrades and new technology implementations. And how well your provider can show you the performance data of these new solutions.
5. Ask for referrals about the customer service
For your business, a problematic customer service is more than an annoyance. When you need help or guidance, you want quick replies and solutions — whether it's a phone call or support ticket. And to find out the quality of a provider's customer service, you can start by reading success stories and contacting past or current clients and start asking questions.
And to evaluate their responsiveness, great questions to ask are:
Support hours (are you open 24 hours a day, every day of the year?)
Ticket resolve times (how long does it take to solve tickets?)
Technician or engineer support (how fast can you send someone to our premises if you can't fix the issue remotely?)
Reachability (can you respond immediately if our network goes offline?)
Help desk (do you offer an online help desk?)
6. Ask them about the certifications they have
IT certifications are never given out easily. An MSP with a range of certifications from recognized organizations tells you what types of skills and qualifications their team currently has. Ask your provider about their certifications and make sure the certifications are relevant to your business.
Two great certifications to look for are the Microsoft Gold Certified Partner and Microsoft Small Business Specialist.
7. Is the provider "future-proof?"
Business IT is not the place to reminisce about the past. To stay ahead, your technologies and IT infrastructure needs to be modern. Your provider should ensure you're using the latest innovations and upgrade them when better solutions come out.
A great way to ensure your provider is future-proof is by asking how they have helped other businesses stay agile and in the forefront of innovation. If a provider's current customers still use solutions that became obsolete years ago, that can tell you a lot.
A wrong-fit IT provider can drag you and your business down
Choosing the right provider means finding an excellent partnership to help you navigate the complexities in tech. They make sure you have the latest and the greatest of solutions and always align their choices to your business goals.
By using this checklist, you know what to look for when selecting your best IT provider. And remember, ask many questions — your IT matters and it's critical your provider understands that too.
Discover if NSI is your new provider. Request a One-On-One Tech Strategy Call.