There are two ways to try to improve any aspect of a business, whether it's about sales, marketing, operations, finances or management. The amateur way is to act ad-hoc and reactively. This leads to random sets of usually disconnected improvements and very limited return on investment of both money and time.
The proficient way is to plan and act proactively. This leads to a development plan usually with connected initiatives set for effective execution and leads to dramatic improvements.
While executives would love to work the proficient way, they unfortunately end up developing organizations in a reactionary way and roll with the punches. The problem is that executives lack an objective "outside" perspective (not biased with internal issues, pressure or constraints) as well as a proper method (process, artifacts and systems) to make the proficient improvements a reality.
In this article we are going to go through a very simple approach to
Discover business bottlenecks quickly
Align the team on goals and priorities
Set projects for success
Execute the projects with limited resources
Basics
We have discussed the Measurable Business Improvement on a previous article. We established the Pyramid of Business Improvement.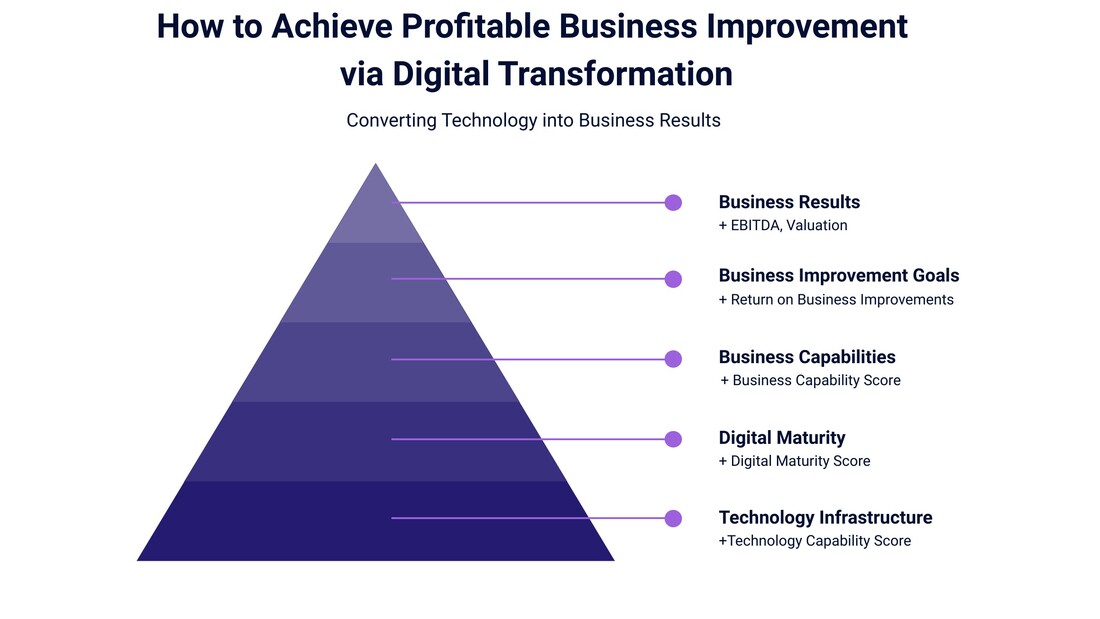 The main idea is that business owners often focus on certain objectives at the top of the Pyramid such as EBITDA, Valuation or growth. They try to influence the organization in order to achieve the goals randomly. The Pyramid defines layers below the financial goals such as Business Improvement Goals, Business Capabilities, Digital Maturity and Technology Capabilities. Influencing those layers from bottom to top yields lasting results and simplifies the development.
How can these different layers be developed in a predictable and effective way?
Business Improvement Process
It would be easy to create a traditional 'waterfall' model for Business Improvement for small and medium organizations. However, the SMEs are pretty dynamic and these 1-3 year detailed plans are never practical.
We suggest, instead, a dynamic approach. Create development cycles quarterly, choose the main priorities, get to the root of problems quickly and execute what matters with the limited resources available.
Is it the perfect solution? No. But it yields the best results. Because priorities are always changing, a quarter is long enough to do some substantial improvement, and small businesses have very limited resources they can allocate to internal development initiatives.
The cycle has four steps: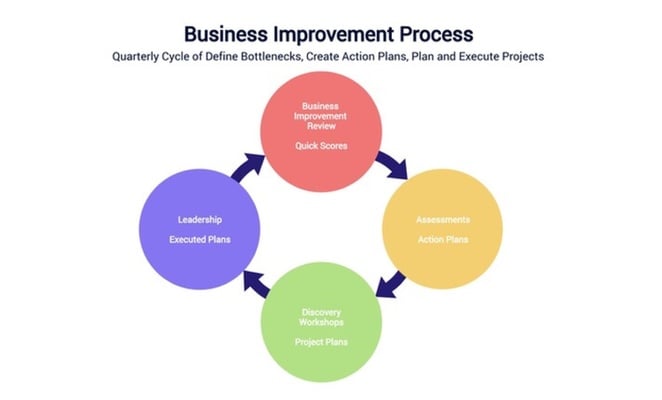 Business Improvement Review – Quick Scores
Assessments – Action Plans
Discovery Workshops – Project Plans
Leadership – Executed Plans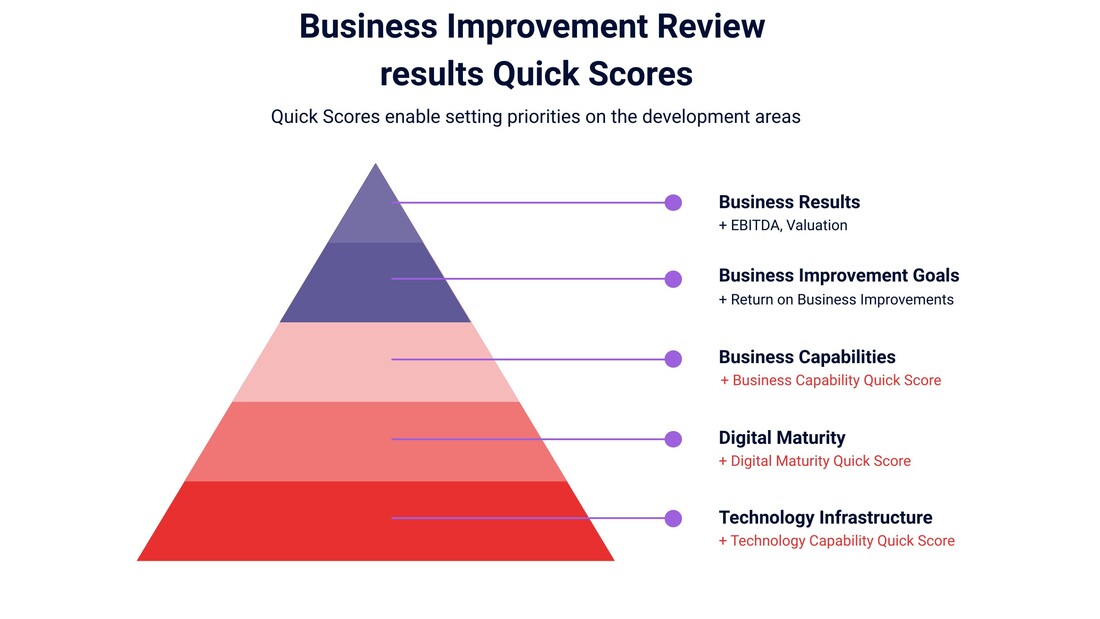 The first challenge is to discover business bottlenecks quickly. If the company can very quickly identify NOT the business issues, BUT the most pressing business bottlenecks that need to be fixed, they can more easily focus on the things that matter most.
A Business Improvement Review is a 60-minute session that can be done once or every quarter in order to reset priorities on the critical areas. The review produces quick scores enabling the organization to quickly set priorities on what business area requires attention, how to enable digital technologies or what fundamental technology is not performing. The session results in a decision on what area needs further assessment.
The process is very quick. You can use rating scales in all three layers so critical issues can be selected for further investigation.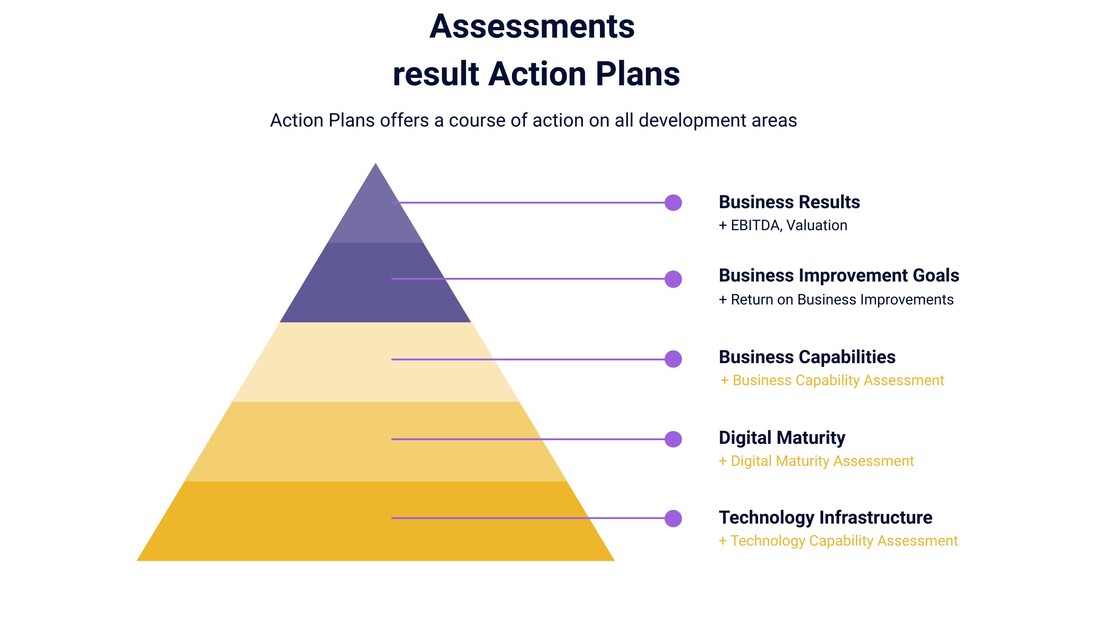 The second challenge after identifying the bottlenecks is to align the team on goals and priorities. Business owners may see the problems but if they want to ensure that employees can work on them they need to articulate what problems to work on first and what needs to be done.
Assessments are typically two 90 minute sessions. The first session goes through the chosen assessment to better understand the potential action items. Then we assemble all the action items into an Action Plan that gives a clearer path forward. As the assessment considers dozens of typical business improvement initiatives, what needs to be fixed in the business in order to eliminate problems comes clear rather quickly. The decisions then can be made to select 1-3 quick-win projects that need planning in order to focus the organization.
The assessments use a survey tool that enables the team to see the big picture and how the individual projects will fix the issues.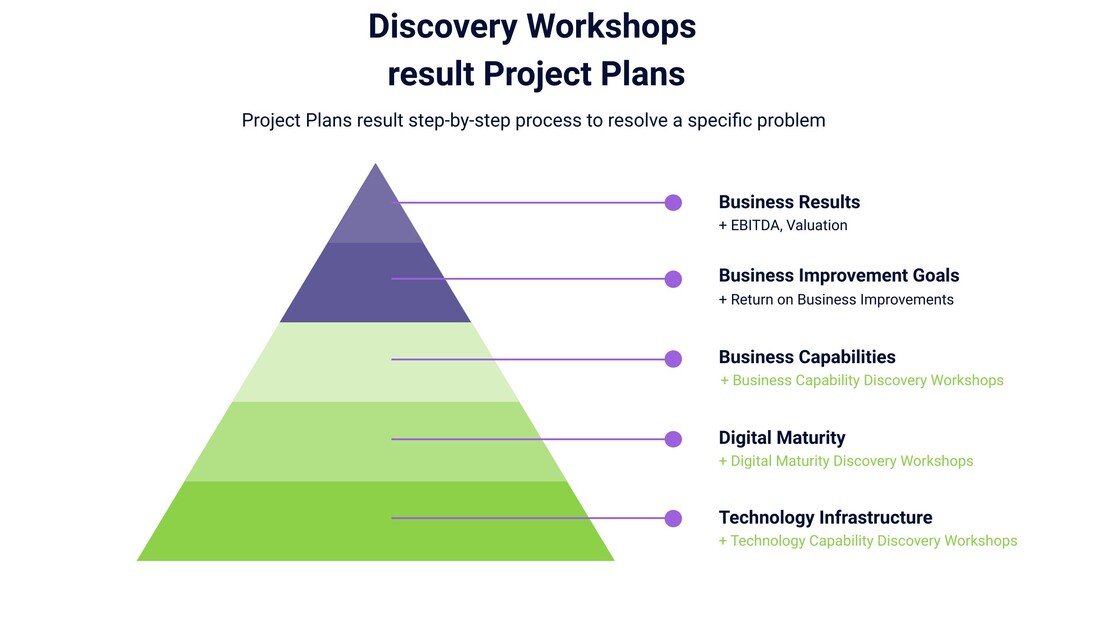 The third problem is to make sure that the projects are set for success. Great business improvement ideas with a lack of specifics won't be able to distribute the work among the team. That leads to stalled projects, and the executives just don't have time to stay on top of them.
Discovery Workshops are typically group and 1-on-1 meetings spread over a week. We start with a kickoff meeting, followed by a group meeting, then ending with member interviews. The information gathered is then used to create a Project Vision Statement, Project Timeline Plan and a Project Execution Plan. That can dramatically increase the success of all projects. Once these artifacts are developed with the team, they can make decisions, gain focus and ensure accountability. The plans lead to an easy execution because of leadership.
The workshops are quick as they employ specific meeting techniques, so people are engaged, decisions are made, and the team builds practical plans that work on action items immediately.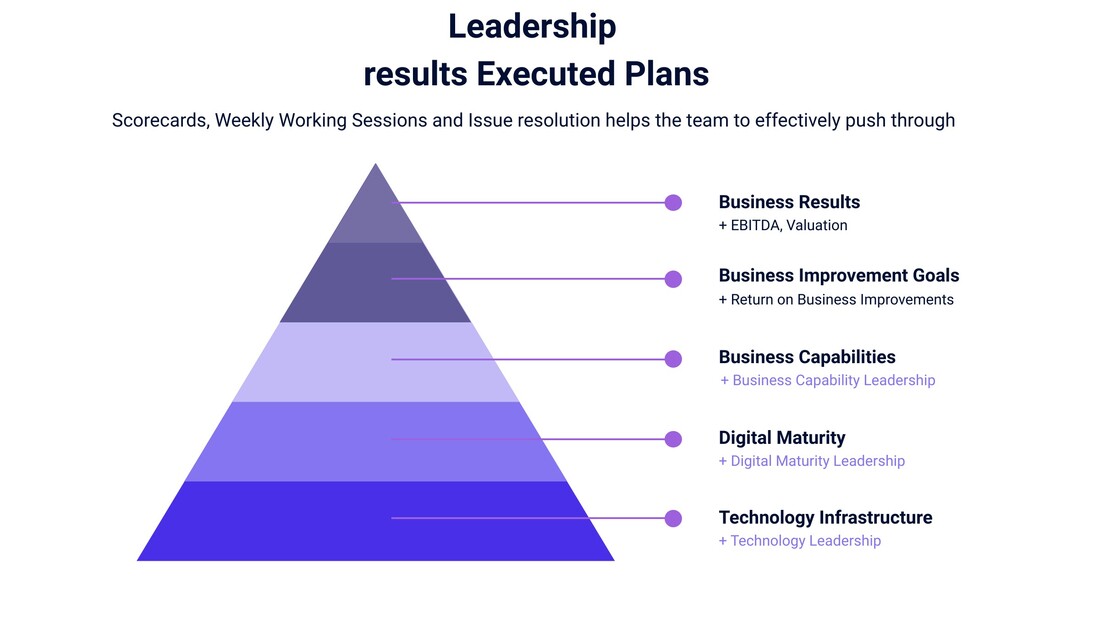 The fourth problem is to execute the projects with limited resources. Business improvement projects are pretty much additions to the 40 hour work week, which is indeed why they're often stalled, incomplete or totally abandoned. Operations are awash in pressing issues and without planned activities these projects just do not get the attention required.
The ongoing leadership helps the team to stay on track regardless of issues, resource problems, time or confusion. The weekly project sessions, the project scorecard, project milestones and the clear roles enable the team see weekly progress, set quality time and execute only what pushes the project forward in spite of the daily grind.
The leadership component has a simple framework to handle a cadence of accountability and helps people move forward, handle issues and eliminate roadblocks.
On a bumper sticker
Small and medium businesses struggle with continuous business improvement. They lack the time, expertise and resources to plan and execute critical initiatives to improve their sales, marketing, operation or finances. A quarterly business improvement process will find bottlenecks, set priorities, plan projects and execute with limited resources.