When disaster strikes, a business continuity plan can help save your business from financial and reputational damage as well as complete bankruptcy. And even though we prefer not to think about things going wrong, disasters do happen.
But what is business continuity, and what does it need to include?
What is business continuity?
A cable spark might start a devastating fire. An employee can open an innocent attachment that accidentally infects all company devices with ransomware. Or, a natural disaster like a flood or hurricane can stop you from serving your customers for an unforeseeable future.
If that or any disastrous event would happen — what impact would it have on your business?
Business continuity means securing operations in times of adversity or disaster. With a business continuity plan, you outline all possible events and risks that may negatively impact your business, like the ones previously mentioned, and use your plan to resume operations quickly.
So instead of not having the ability to serve your customers, a tested business continuity plan in the hands of your best employees ensures you can quickly resume activity and return to normalcy - even in times when your local competition can't.
Creating a business continuity plan should be your top priority if you want to keep your business safe from possible disastrous events in 2022.
Are you ready to learn the six critical points for business continuity? Let's dive in.
Your Business Continuity Checklist for 2022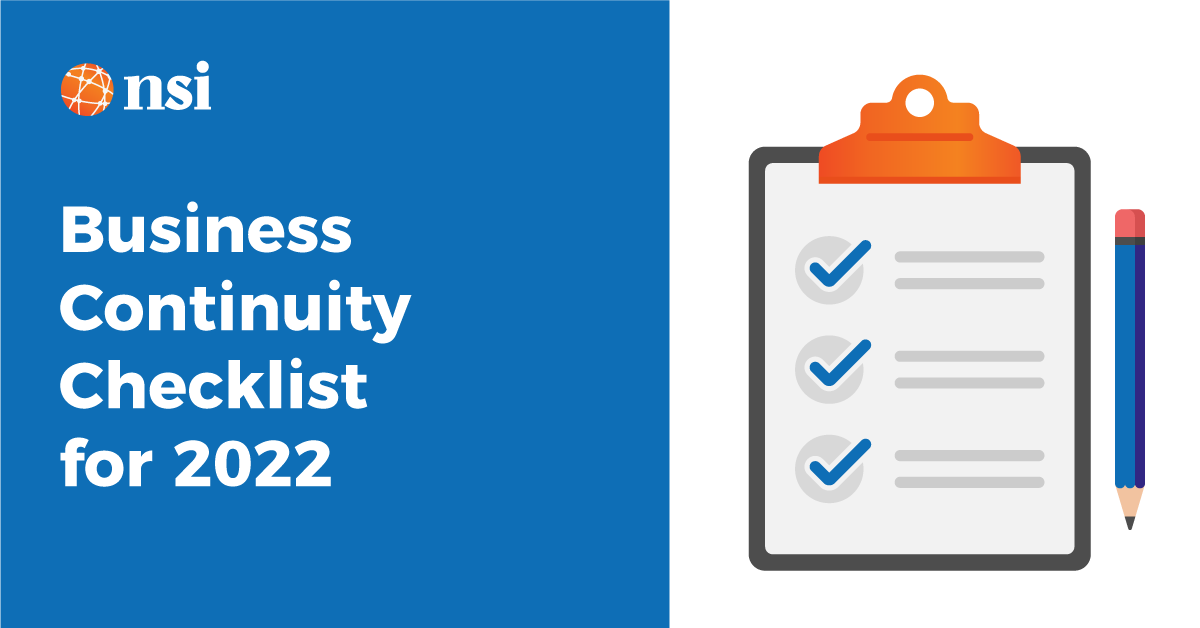 1. You have identified possible threats
A vital part of business continuity is identifying the possible disasters, events, and errors that can disrupt your business. Since the idea behind a business continuity plan is to continue operations in the case of any type of event, your list can become quite extensive.
Possible disasters include, but are not limited to:
Human errors, thefts, or data leaks
Power or telecommunication outages and IT failures
Terrorism acts and social unrest
Pandemics
Hacking attacks
Sabotage
Natural disasters
Fires
List the possible threats that can affect your business and rank them based on their likelihood of happening and possible impact on your business. By understanding the threats you face, you can prioritize the ones that have the biggest chance of happening.
When you know what threats can disrupt your business, you can effectively plan to manage and reduce those risks.
2. You have identified key business areas and critical functions
What business areas and activities are critical for your company's survival? By analyzing the vital functions and areas within your business, you can put a plan in place for how to protect them.
Ask questions like:
What types of resources do these critical activities need?
What happens if we stop doing these activities?
How long could the business survive without these activities?
But while identifying the key business areas and critical functions is important, remember that these areas seldom work alone. Find out the relationship between these functions and what happens to the other if one gets suddenly disrupted.
Lastly, determine what downtime you can regard as acceptable for your chosen critical areas and functions.
3. You have communication guidelines and strategies in place
Communication is key, especially when your business is on the line. To solve a crisis and move your way towards normalcy, you need to secure lines of communication to employees, customers, and suppliers — even in the event of a complete system failure.
You also need to establish a clear point of contact in case of an emergency. Choose a person to oversee your business continuity plan and give their contact information to all your employees. Issue a backup in case that person is unavailable or unreachable.
A clear communication guideline and strategy allows you and your crisis team to know who to call, in what order, and when.
4. You have a response plan
A response plan gives you a step-by-step guide on what to do when disasters, incidents, or a crisis strikes. The plan should contain everything you need to make your business run again, with a timeline to mitigate financial and possibly reputational loss.
Think of it as your complete guide to handling business emergencies. Include your plans of action for any type of negative event you list, including how you can ensure key business areas stay operational.
5. You have the proper backups
Apart from its employees, data is the most valuable asset of an organization. And in the event of a disaster, like a ransomware attack, you need proper backups to secure your data, documents and files.
With data mirroring, you can keep a backup with up-to-date copies of all your valuable data in a different location. So in case it's inaccessible, you can quickly access it from your secure site.
It's also important to have a data recovery plan which allows you to restore lost files. Data recovery should be a part of your disaster recovery plan, which contains detailed instructions on how you can mitigate any type of disruption, however small or large.
6. You have a tested plan that you trust
There's no way around it, to do business continuity well, you need a business continuity plan that is thoroughly documented, tested and trustworthy. You don't want to be in the midst of a disaster with a plan that doesn't work — that can spell financial and reputational disaster for your business.
Other important questions you must answer are:
How long does it take you to recover, and be back up and running?
How long can you be down? Are we talking hours or days?
Do you have a plan for employees? Can you set up operations offsite?
Do you have any idea of the cost? Not just of the solution, but the cost of being down — how much can you afford?


Create a business continuity plan today
Having a well-documented and tested business continuity plan in place is key to keeping your business safe from any type of disruptive event. Whether it's a hurricane, power outage, hacker attack or anything else, a plan on how to handle the most probable scenarios is critical.
By reading this article, you have learned about six important points for business continuity in 2021 and questions to ask and answer. Take what you have learned and start securing business continuity for your business today.
Need help? Don't hesitate to contact us today.