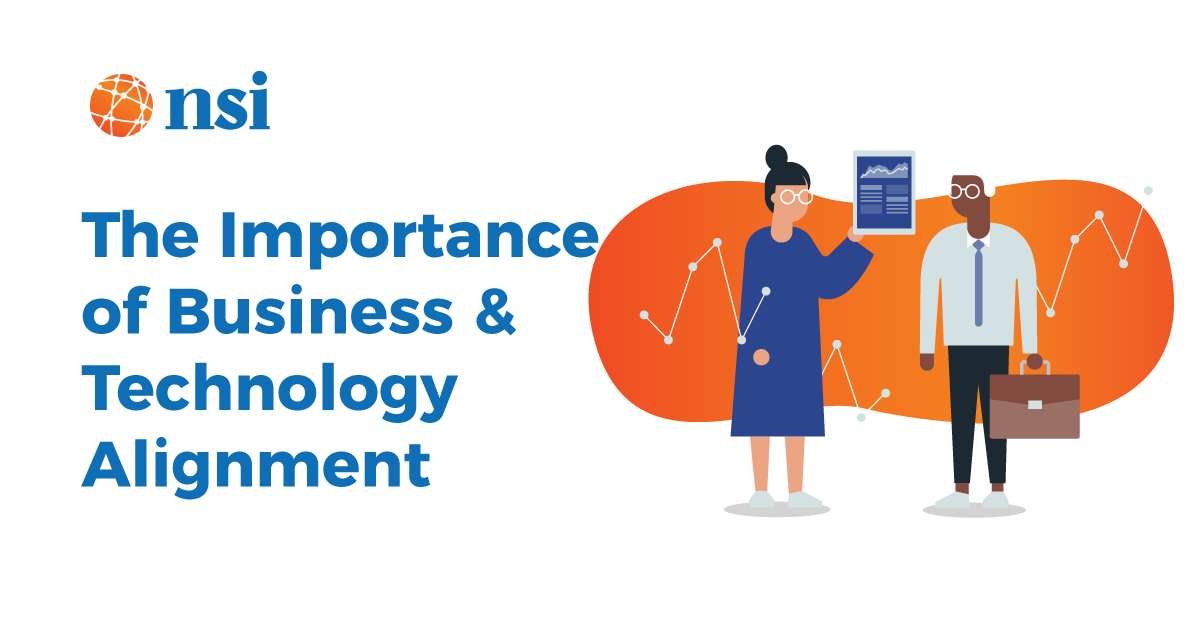 Most small and medium-sized businesses operate with limited resources. Aligning information technology and business goals maximizes these resources because it helps teams work together towards common goals. This important strategic business concept is commonly known as IT-business alignment.
Take a look at four ways your Connecticut SMB will benefit from aligning technology and business goals.
1. Increase Profitability & Reduce Costs
Using the correct digital tools can help your company deliver improved service to customers. This added value will promote better brand positioning and can result in an increase in sales. Also, using technology wisely increases efficiency, and company departments begin to work better together.
Increased efficiencies and sales means increased profitability for your business.
This increase in profitability can only happen if you align your IT and business systems. However, the task of aligning information technology and business is a shared responsibility and should not be left only to the IT unit. We recommend involving leadership in all departments to increase communication among the teams and ensure that IT spending aligns with the company's vision and goals.
Your business will begin to obtain a greater return on investment and accomplish more of its objectives with much less effort when your IT and business systems are aligned. To ensure all resources are used as effectively as possible, you will want to empower your financial and IT teams especially to work together in determining how your company can invest money in IT intelligently.
2. Facilitate Strategy & Make Better Decisions
IT-business alignment can point to technology implementations that will help integrate tools that work for multiple business units. These implementations can help leaders in every area make smarter decisions. For example, your company can use technology to provide department leaders with an increased visibility into problem areas, so they can plan for improvement and better synchronize all units to become agile.
Having access to customer data through technology can help facilitate strategy and promote intelligent decision-making as well. For example, implementing a customer relationship management (CRM) system can help your customer service, marketing, and sales departments have valuable insight into your client's needs and preferences.
When incorporated thoughtfully and taking into account business goals, technological implementations can much better serve their purpose and keep the organization on the right course. When thinking about how you can align technology and business goals, consider collaborating with leadership to review how technological implementations can help you in strengthening your business continuity.
3. Enable Collaboration For Business Contacts & Clients
In 2020, the state launched an online portal to help facilitate communication with Connecticut's small business owners, entrepreneurs, and start-ups. According to a press release announcing the project, the website is part of a digital transformation for the government where business owners can "spend time online – not in line."
What can SMB leaders learn from the state's implementation of this digital tool?
By aligning IT to their strategic goals, Connecticut has improved communication with their target audience. A year later, more than 2,500 new businesses have started up in Connecticut using the website and more features have been added to help business owners cut back on the time they spend trying to find information to start or manage their business. They have helped their business users succeed in using technology to conduct tasks online that used to take more effort and had longer wait times in person.
Strategically aligned business and technology units are also possible in your business. Communication among your leadership structure is crucial to foster this alignment. In our experience, asking your staff to continually think about how they can best serve external and internal clients —their colleagues— helps to curb the silo mentality that can often hinder collaboration.
You can boost workplace productivity and increase communication between business units and your clients using technology. For example, technology infrastructure and culture that promotes flexible work helps break down barriers to collaboration. However, we recommend taking the time to evaluate how IT aligns with your business goals and planning for continuous business improvement rather than making impulsive changes.
4. Simplify Your Business Operations
We've come to understand that strengthening access to technology drives efficiency and productivity in all business functional areas. This has particularly been the case throughout the last couple of years when many Connecticut SMBs have had to adjust to remote work, cloud operations, and catering to increasingly demanding customers who seem to always be online. Having a greater degree of technological capability to work with is fundamental for allowing your business to function at its fullest.
Technology is still in the top five areas in which Connecticut business leaders say they will make the greatest investment, according to the 2021 edition of CBIA's yearly survey. However, we also know it's not enough to simply put technology into place; SMB leaders like you will do their best to emphasize aligning information technology with your business goals. This means promoting the use of the appropriate digital tools that will simplify your operations, reducing time and effort required to accomplish tasks.
Creating a more streamlined work environment for your staff can enable your teams' success. For example, introducing ways to automate certain daily activities for your sales unit is one way digital transformation can improve operations and reduce stress.
Successful SMBs Align Information Technology and Business
Experienced leaders like you know collaboration among team members takes effort to achieve and maintain. In our experience, when leaders implement a greater degree of business-IT alignment in their SMBs, they have a higher probability of simplifying operations and making the right business choices.
Promoting IT-business alignment so it becomes the overarching driver of digital transformation will make every cent invested count toward improving business operations, reducing costs, increasing profitability, or all three.
When you align your information technology and business systems, your teams will create more profit and accomplish more of your key performance targets while putting in less effort. This will equate to obtaining a greater return on investment for your company.
We can help evaluate your current IT infrastructure and provide a quick assessment on how to align IT with your business goals.