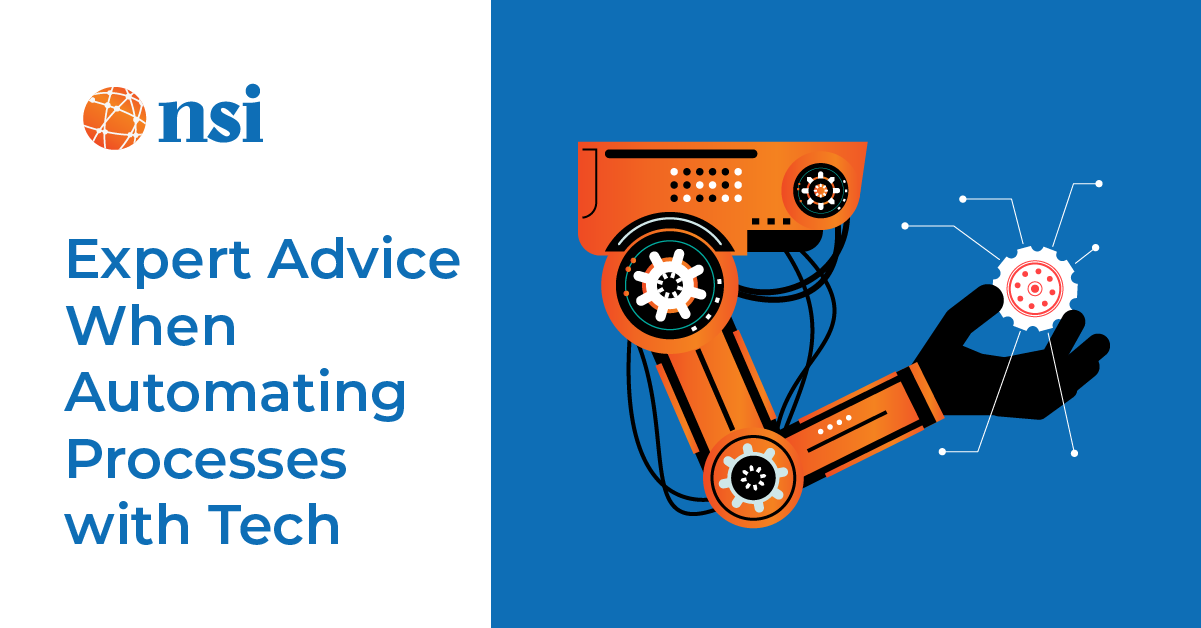 Automating processes is an excellent way to save employee time on repetitive or multi-step tasks and free up employees for higher-value work. It can also be a stepping stone to your company's digital transformation.
According to McKinsey & Company, 66% of surveyed companies are at least piloting business process automation (BPA) software, which is an increase over pre-pandemic automation numbers.
Business automation can range from simple automation that requires little to no coding to more complex options that require specific software or intelligent, AI-driving automation.
Automating processes has various advantages, including:
Clarity: The initial automation process provides a clear picture of inefficiencies and who is responsible for which processes in your current practices.
Efficiency: Streamlining processes allow for faster turnaround times, efficient task tracking, improved productivity, and elimination of wasteful activities and costs.
Communication: In-system communication eliminates lost email and texts, provides a more robust level of data, and helps meet deadlines.
Accuracy: Uniformity improves quality, and using machine learning and AI to handle data increases accuracy in output.
Recordkeeping: Leaving a digital "paper trail" of compliance records makes audits easier.
Continuity:

Entering data within set parameters provides continuity and allows format replication from new or fill-in personnel.

Customer satisfaction: Having happy customers ensures return customers.
If you're considering automating processes in your business, we have some expert advice to offer to get you started on the right foot.
Identify Which Business Processes Are Automatable
If a process involves manipulating data, you can integrate that data into an automation system. Some common business automation includes:
Marketing: Scheduled emails, digital marketing campaigns, automated social media messages, product launches
Human resources: Application processing, scheduling interviews, sending employment offers, onboarding, background checks, payroll and benefits, time off requests, timecards, attendance
Sales: Call logging, filing, qualifying leads, assigning leads to reps, lead nurturing, follow-ups, creating sales forecasts, paperless contracts, sales orders, shopping carts
Finance and accounting: Invoicing, accounts payable data capture, automatic invoice matching, automatic digital approval routing for POs, collections, inventory
Document generation: Generating specific digital documents based on input data and automating document delivery
Customer support: Chatbots, automatic email replies, social media comment moderation, customizable messages, call center processes, online tutorials
Not every process needs to be automated. The trick is to make sure you're working smarter rather than harder.
Your company will thrive when humans are left to do what they do best– being creative and strategic. Your employees can do a better job doing the more human side of their job when the more mundane tasks are automated.
If you're trying to identify which processes in your business needs automation, ask yourself these questions:
What areas in the company take a lot of time and labor and need more efficiency?
What paperwork can you eliminate with automation?
What tasks in your company are repetitive?
What are your company's highest-volume tasks?
What tasks are employees often forgetting to do?
What tasks do employees dread doing?
What areas have workflow problems and need a boost in productivity?
What documents need signatures?
What are common computational mistakes that an AI system could catch?
What tasks are time-sensitive?
What tasks need a compliance audit trail?
Which automated areas would provide the highest return on your investment?
Determine Your Goals for Automating Operations
Your technology should align with your business goals. If you're going to spend the money and time to institute a new automated system, you should determine which business processes are the most advantageous for your company to automate.
Deciding your goals can help you determine which process would be the most advantageous for you to optimize. Decide if your goal is to:
Save time
Save money
Eliminate paperwork
Eliminate errors
Reduce frustration
Improve collaboration
Make communication more efficient
Improve meeting deadlines
Increase customer satisfaction
Keep better records
For example, would automating processes improve customer response time? Would it allow your employees to tackle more valuable tasks? Would going digital save your company money? Would improved customer response time net you more business?
Measure Your Return on Investment
Measuring your return on investment (ROI) goes hand-in-hand with identifying your goals. It's necessary to consider whether the end results justify the expense and hassle of automating a particular process.
According to Forbes, intelligent automation can create 40-75% in savings over several months or years.
You should be able to measure the success of instituting an automated system with exact figures rather than ambiguous goals. Sure, it's nice to go digital. However, you want to ensure the systems you automate provide real ROI.
Using key performance indicators (KPIs) to collect information can help you monitor specific metrics related to these goals. What would be the quantifiable value of automating a process?
For example, if you're trying to improve customer response time, you should know how long it should take to respond to a customer and how many customers you want to be able to help within a certain time frame.
Document Standard Operating Procedures
Before you can institute automation, it's important to document your standard operating procedures (SOPs). You need to know who does what, all process steps, what snags the process may encounter, what permissions you need, and address compliance areas.
It's essential to involve the people who do each task in creating a document or flowchart that defines an SOP for the process you want to automate.
Don't Reinvent the Wheel
While it's nice to have custom-coded software specific to your business, custom software can cost thousands of dollars. It's worthwhile to investigate whether there is any business process automation (BPA), business project management (BPM), or project management software that already exists to automate your procedures.
Here are some BPA and BPM software and low-code automation technologies to explore that may already have the components you need:
Appian
Comidor
IBM Cloud Pak for Business Automation
Outsystems
Process Maker
Signavio
Alternatively, you can try project management software such as:
Asana
Basecamp
ClickUp
Meister Task
Monday.com
Teamwork
Trello
Ziflow
It's also a good idea to investigate software specific to your business type. Software specific to your unique needs may already exist. You will also want to consider software that integrates well with the software you already use.
Sometimes, a program can look good in writing but not really fit your business needs. Thus, it's sound practice to ask the software company for a demonstration and put together a team to test-drive software before you commit to it.
If you don't see what you need, the company may offer custom options. Companies like Asana have a myriad of templates to add on, or you can get an IT team to create custom software for you.
Include Your Employees
Having a nice, new automated software program isn't helpful unless it's valuable to your employees and they know how to use its features. Your company can't benefit from software nobody understands or if it doesn't fit with your procedures.
Some areas where it's essential to include and utilize your employees include:
Information: Obtain documentation of standard operating procedures from the people who will be using the product to ensure that processes are error-free.
Testing: Draft a team responsible for choosing features and test-driving the product.
Training: Conduct workshops to teach employees how to incorporate automation in their everyday tasks.
Reminders:

Employees may need reminders such as that there's a new way to obtain signatures or how important it is to input data into a new calendar system.
Final Thoughts on Automating Processes
Automating processes can help usher your business toward being more digitally savvy, which is a must in today's world. It can be the first step toward increased business growth as well as saving time and money.
Once you determine which business processes are beneficial and profitable to automate and have done a self-study to determine exactly what you need, it's time to find the right software for your company.
If you're not sure which process-automating software will be best for you, NSI can help you conduct a needs assessment and other evaluations to help narrow down your choices. You may not know the right questions to ask a software company, but we do.
We can help make the automation process more seamless with far less stress than trying to do it on your own. Call us at 203-723-4431, ask a question, or book a meeting with us to discuss how we can assist you with your automation project.