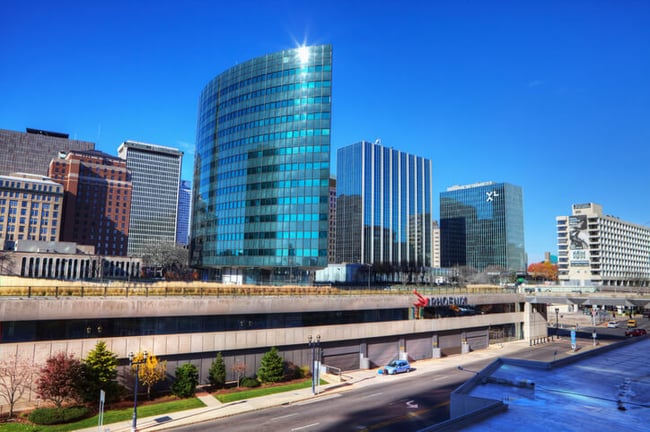 Connecticut has a long history of manufacturing innovation, starting with furniture and cabinet-making before the Revolutionary War to the manufacture of state-of-the-art aircraft and submarines today. Notably, gun manufacturing started in 1797 with Eli Whitney, and a few decades later, Samuel Colt began making his famous revolver in 1836. Additionally, Connecticut is famous for clocks, originally manufactured by Seth Thomas, and tool makers such as the Stanley Company, which still has its headquarters in New Britain. Today, Connecticut is at the forefront of advanced manufacturing and continues to develop new techniques and technologies to improve production and distribution techniques.
The Impact of Manufacturing on Connecticut's Economy
The state has around 4,500 manufacturers employing over 159,000 workers, and it has exported in excess of $15 billion in goods in 2014. The Connecticut aerospace industry alone produces $6.9 billion in exports, which accounts for 43 percent of state exports. Overall, the state's manufacturing output was about $27 billion in 2014 alone.
In addition, bioscience is big in the Nutmeg State; the industry employs more than 18,000 Connecticut residents at 70 different life science companies. Pharmaceutical companies such as Pfizer, Bristol-Myers Squibb, and Boehringer Ingelheim have headquarters in Connecticut and spend more than $6 billion annually on biotechnology. In fact, as part of Connecticut's commitment to biotech, the state has formed a biotech cluster called CURE consisting of healthcare and biotech companies.
Moreover, advanced manufacturing is on the rise. It is categorized as any type of manufacturing operation that relies on technology to improve manufacturing products and processes. To encourage its growth in Connecticut, colleges and universities are offering vocational training in lean manufacturing, supply chain, project management, additive manufacturing, and related disciplines.
Top 10 Connecticut Manufacturers
In sum, manufacturing is making a big splash, but which companies are driving innovation in Connecticut's manufacturing scene? Here are 10 manufacturers leading the economic revival:
United Technologies Corporation (UTC)
United Technologies is one of the state's biggest manufacturers specializing in aerospace and aviation. The company has a number of specialty companies scattered across the state, including Pratt & Whitney, a manufacturer of jet engines with headquarters in East Hartford. Pratt & Whitney has been praised in particular for its breakthrough technology, such as the development of the PurePower® Engine and F135 engine.
Sikorsky Aircraft
Sikorsky, another aviation pioneer, has its headquarters in Stamford. As one of the foremost manufacturers of helicopters for commercial and military use, Sikorsky was recently sold to Lockheed Martin by UTC.
General Dynamics
In addition to innovation in the sky, Connecticut also hosts the headquarters of one of the leading manufacturers of submarines: Electric Boat in Groton. The parent company General Dynamics also manufacturers jet airplanes, combat systems including communications, and marine systems.
Stanley Black & Decker
One of Connecticut's oldest manufacturers, the original Stanley Tools are still manufactured in the state. Stanley Black & Decker also manufactures some of the best power tools in the construction industry. The company still has its headquarters in New Britain, where it was founded in 1843.
PerkinElmer
Although maintaining headquarters in Waltham, Mass., PerkinElmer is prominent in Connecticut R&D facilities in Branford and a manufacturing plant in Shelton. Additionally, it is one of the leading companies in healthcare with lab, imaging, and diagnostic solutions, among others.
United States Surgical Corporation
U.S. Surgical Corporation is a subsidiary of Medtronic plc but still maintains headquarters in Norwalk and owns subsidiary brands, such as Davis & Geck, Power Medical Interventions, and Surgical Dynamics. The company specializes in surgical devices, instruments, sutures, and specialty healthcare solutions.
Eyelet Crafters
This Waterbury-based manufacturer has been making eyelets for the cosmetic, writing, automotive, drapery, electronics, and medical industry for more than 50 years. A great example of Connecticut manufacturing entrepreneurship, Eyelet Crafters, is committed to applying cutting-edge technology to improve quality and manufacturing efficiency.
Bridgeport Fittings
Located in Stratford, Bridgeport Fittings manufactures industrial fittings in all shapes and sizes for various industries. The company stays ahead of the competition by applying the latest techniques and technologies to deliver custom products and superior service.
Oxford Performance Materials
Based in South Windsor, Oxford Performance Materials develops high-performance polymers and related compounds used to develop specialized parts. Employing the latest 3D printing and other techniques, Oxford delivers custom parts for aerospace, healthcare, and industrial applications.
Triple Stitch Promotional Solutions
Waterbury-based Triple Stitch Promotional Solutions provides a wide range of promotional products for companies looking for unique branded items for events or advertising. They offer everything from printed-on-demand business cards to branded Bluetooth speakers and candy with custom wrappers.
These are just a handful of the leading manufacturers scattered across Connecticut serving multiple markets with innovative products. One common trait all these companies share is the drive to be innovative, which is why advanced manufacturing techniques and computerization are essential to success.
How Computers Power Advanced Manufacturing
Advanced manufacturing techniques are driving innovation, and computer technology is driving advanced manufacturing. In addition to automation and robotics on the factory floor, connectivity is essential. Machines must share information to keep production moving, and engineers are using network technology such as the Internet of Things (IoT) to monitor and manage equipment.
Computer technology continues to drive product design and manufacturing with CAD/CAM software that enables complex modeling and simulations. High-performance computing is being applied to simulations and analysis, as well as rapid prototyping using computer-driven design and 3D printing systems. And as manufacturing becomes more sophisticated, companies are developing more sophisticated back-end systems to handle parts ordering and tracking, shipping, billing, and related business processes.
The more companies rely on advanced manufacturing techniques and technologies, the more computer support they require. Managed service providers are playing an increasingly valuable role in supporting engineering, design, and manufacturing. The more applications and data are required to run the factory, the more complex the enterprise networking challenges. Consider the use of IoT. While using IP to monitor production equipment can be incredibly valuable, the amount of data generated is overwhelming. Harnessing IoT data for analysis requires big data techniques and storage, which means massive data cloud-based storage and hosted computing services.
As manufacturing becomes more complex, managed service providers are being called on to maintain computer systems, integrated hosted services, business, and critical backups, as well as troubleshoot networking problems. However, not all managed service providers understand the demands of advanced manufacturing. When shopping for the right support services, be sure to enlist help from an enterprise expert who understands those unique demands and can provide cost-effective services that save time and money while improving operations.