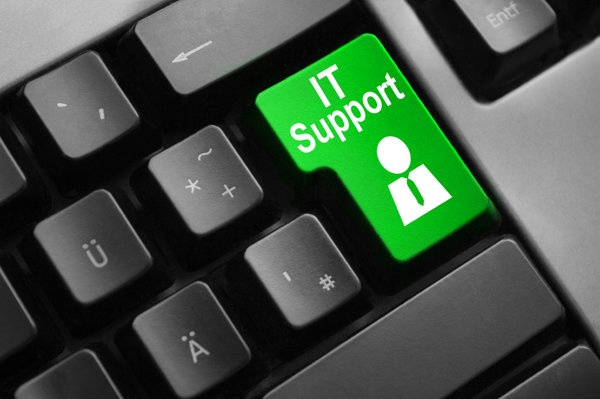 Every business runs on computers these days, which means every business needs some form of computer support. Someone has to be responsible for configuring and maintaining computer systems, keeping the Internet up and running, managing the web site (especially if you are dealing selling using e-commerce), and even dealing with paper jams in the printer. At the same time, staffing is one of the biggest expense items for any business, typically consuming more than 50 percent of itemized expenses when you take into account compensation, benefits, insurance, and worker's compensation. But do you really need a dedicated IT team to keep your network systems up and running?

When you weigh the pros and cons of maintaining your own IT staff versus outsourcing support to an IT service company, making the right decision is seldom cut and dried. If your business can't function without the computerized database or e-commerce site, then having an on-site expert might make sense. If, however, little of your office computing could be considered "business-critical," then outsourcing your IT support may make better economic sense. You need to weigh the pros and cons.


Do You Need Onsite IT Support?
If your computer operations scale beyond a certain size, then maintaining on-site technical support may be necessary.

There are a number of benefits in maintaining a IT staff onsite:
Routine IT issues are generally addressed more quickly


It's easier and faster to fix or replace broken equipment


IT managers are in a better position to work with vendors
IT managers can become part of the decision-making process and help plot the course for the company's future computing needs.

However, don't fall into the trap of hiring an IT expert just because you might have a computer emergency. If you don't have enough work to keep an IT professional busy then you are wasting your money.

Also consider that no computer specialist is expert in all things. Most IT pros can handle routine networking and workstation configuration issues, and they likely have a specialty such as systems integration or data warehousing, which means there are tasks that fall outside their expertise. These professionals also are highly skilled and in demand, which means they are expensive. You don't want an expensive IT professionals spending the majority of his or her time changing toner cartridges or showing administration staff how to find lost files.

When hiring IT support personnel, be sure you are using them to best advantage. For example, if you have a customized online catalog that requires constant attention or if you need a full-time database manager, having the right expert on staff can be invaluable. However, if you need an IT professional with broad-based expertise, chances are you are still going to need to have the right experts available to deal with specific issues.


The Benefits of Remote IT Support
For smaller operations less dependent on computer technology, a cost/benefit analysis usually reveals that maintaining on-site IT staff may not be as cost-effective as outsourcing. Consider that every professional you hire typically costs the company twice their salary in additional overhead, and that salary is usually more than enough to retain an IT support service.

When you hire an IT consulting firm you are hiring a team, not just an individual, which means you gain access to multiple experts. An outside IT firm will have the expertise to address almost any IT problem, from a security problem to a broken printer.

Partnering with the right IT support service also gives you more resources for less. The firm works with you on strategic IT objectives, providing proactive counsel and advisory services as well as hands-on expertise. IT consultants can bring a broader range of ideas and solutions to the table, drawing from the latest technology and what they see at other client locations.

Third-party support services also bring more than expertise. Remote IT support can also include value-added services such as cloud computing and disaster recovery as well as IT support. And an IT service company usually offers 24-hour support so help is always a phone call away.

Remote service providers also can perform many of the functions of onsite IT staff, and often do them better. For example, an IT service provider can offer remote monitoring and support services, watching IT traffic for anomalies and even performing remote software updates and configuration. Often remote IT experts can identify a problem or uncover a security issue more quickly than on-site IT staff who have to deal with multiple issues simultaneously.

Even if you determine that on-site IT staff is essential to your operation, you can still benefit from remote IT services. While your onsite IT team is addressing strategic issues that matter to the business, the remote IT service can monitor operations and provide tactical support for routine issues to keep systems operational.

Maybe the question you should be asking isn't whether you need onsite IT support or a remote support, but rather how can you make the most of both a dedicated staff and the right IT service provider.

What type of IT support do you think is most beneficial to your business?