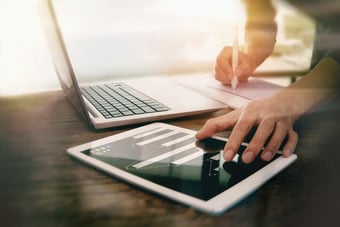 Every Connecticut business needs some type of computing technology, including the technical services to support those systems.
The crucial question becomes whether it's cost-effective to maintain an IT expert on staff, or to outsource managed computer services. It is often a good idea to do both; keeping an IT expert on staff for business-critical issues and a managed services company to handle routine issues such as backup, system monitoring, and printer maintenance.
It can be a tough balancing act—your business runs on IT technology so you can't afford IT downtime, but is there sufficient need to justify hiring IT personnel?
For most small CT businesses, engaging a managed services provider usually starts with a single project. Maybe it's installing a new server or setting up a new cloud service. Whatever the engagement, once you find a managed service provider that is reliable, the business relationship usually evolves into an ongoing partnership.
When assessing a managed computing services partner, you want to determine where they can be of most value to your business, and whether their capabilities can accommodate your future needs.
Undoubtedly there already are routine IT tasks that are not a good use of your staffs' time, as well as tasks that are difficult to manage in-house. When evaluating your IT needs, consider outsourcing some of these IT tasks to save staff time and money:
1. Equipment Maintenance
If you have a service provider or value-added reseller who installed the equipment, then you can set up a service contract for maintenance, but what about other computing equipment? Do you have laptops or workstations that may need to be repaired but aren't under a service contract? What about network printers? This kind of equipment will need to be repaired by a third party, so see if your managed service provider will include these in your service contract.
2. Software Support
Routine software maintenance and management may be part of your IT department's responsibility, but more software support is being outsourced as businesses find new benefits from cloud computing. Keeping software up-to-date with security patches and license renewals is critical, and it's easy to outsource.
3. Remote Systems Monitoring
Maintaining the health of your computer systems is important to your operations, so you need to keep an eye on network performance, just as you would look for performance problems for your car.
You may want to have monitoring systems in place for critical alerts, but it's the subtler problems that degrade performance and affect productivity over time. Remote monitoring is an ideal way to have an expert keep an eye on business-critical systems to watch for performance problems.
4. Systems Security
More important than performance monitoring is network security monitoring. Most companies don't even spot a security breach for six months or longer. Having a dedicated set of eyes monitoring the network for suspicious activity and possible security breaches can help keep data safe.
5. Disaster Recovery
Every business should have a disaster recovery and business continuity plan. In the event of a fire, flood, blizzard, electrical failure, or some other disaster, you need to keep your business systems operational.
Disaster recovery is a service that you should logically outsource. A managed service provider can maintain remote backups of critical systems so data recovery can be handled quickly and easily. Service providers also can help set up and maintain mirrored systems in the cloud if your business requires a higher level of redundancy.
6. Help Desk Services
Did you know that the average employee spends an average of 22 minutes each day dealing with computer-related problems? That's a lot of productivity wasted, including the amount of time your IT staff has to spend addressing routine problems.
The most common IT problems include lost passwords, being locked out of applications, BYOD issues, slow system performance, and lost files. Most of these problems are trivial for IT to fix, but they are time consuming. In addition, more employees are telecommuting, which means they need remote help desk services at all hours. Help desk support is something you should definitely consider outsourcing.
When shopping for an IT services partner, Connecticut business owners should look for a service provider in their region with the right services and experience. You want a service provider with a proven track record who understands your IT needs and can provide technical guidance.
If you are looking for a way to reduce your IT overhead, why not use your next IT project to test out potential managed computing services partners? Be sure the company has a good reputation, a reliable tech staff (some companies are all sales and no support), and the services you need for your immediate project and future projects.
If you want some tips on how to choose the right IT service provider, check out our eBook, Onsite vs. Remote IT Support: Which Managed IT Service Provider is Right For Your New England Business.