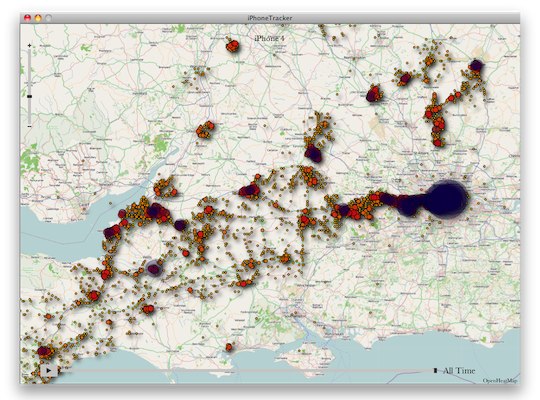 It was recently found that Apple has been tracking every iPhone user's location with a secret hidden file. This came as a shock to most, as Apple has never mentioned this feature, which was most likely added in the iOS 4 update, and has caused quite a stir among privacy experts. This file tracks your location based on cell phone triangulation, which gives a general pinpoint of where you are at that time by locating the signal strength over 3 towers. What is even more alarming as there is currently no way to prevent apple from gathering your data, even with your GPS off, Apple can see where you were at any given time. To make matters worse, this file is unencrypted, meaning that anyone with a little bit of knowhow can pull up this data and check in on your activities.
Currently there is no word on why Apple added this feature to its mobile devices or what it planned on doing with the data, but the data is there assessable to anyone who can gain access to your iPhone or even a backup copy you make during syncing, as the data is transferred from the device to your computer. Current speculation has people wondering if this was even intentional, as both Android and Windows Mobile both track your location, but only the most recent one used. Apple might have been doing the same thing, but do to a bug/oversight it might not be deleting the past data like it should.
Currently the only way to disable this is to use an App called Untrackerd, which is only available to jailbroken iPhones. This app runs in the background constantly deleting the tracking info as it's gathered.