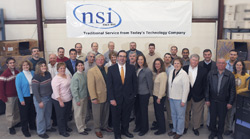 As a company, NSI's strategies have changed continually over the years; our core ideology has not. Sometimes it is difficult to determine what should never change and what should be open for discussion. What is sacred, and what is not.
A core ideology defines NSI's timeless character. It is the glue that holds our business together even if everything else is up for grabs. The NSI core values are not something you invent or fake, they are things we discover over time which define and guide us in our decisions. After 28 years in business it has become more important than ever to explicitly define these core values from which NSI developed our culture, brand, and our business strategies.
These core values are not my sole responsibility to create and maintain. The vision for the company should come from the individuals who make up the company – our TEAM, and then be embraced by all. As Jim Collins wrote:
"Companies that enjoy enduring success have core values and a core purpose that remain fixed while their business strategies and practices endlessly adapt to a changing world"
At NSI, we use these core values when meeting with customers, both old and new. It is important that our clients understand these are our guiding principles by which we navigate. Involvement brings about ownership, ownership brings about energy, and a positive energy creates actions and behaviors that fuel productivity and alignment within the organization.
If you find us not living these core values, call us on it. These are the ten core values that we operate by:
1. Think & Learn
2. Have a Passion for our business
3. Fun – Have it
4. Work as a team, be a family
5. Deliver
6. Be Determined
7. Be Humble
8. Operate with Integrity
9. Respect each other
10. Do More with Less