Not all businesses lend themselves to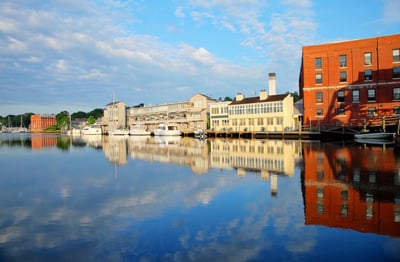 maintaining a flexible workforce. Some businesses prefer to keep workers in the office, since it promotes better collaboration and communications, and it eliminates the risks of opening the company's computer network to remote access.
However, to remain competitive and attract top talent, companies are finding that they have to accommodate remote workers, telecommuters, and off-site freelancers. When we took a closer look at leading Connecticut companies, we were surprised to see some of the names that allow and even encourage a flexible workforce.We have worked with a variety of Connecticut companies, advising them on what's required to support a flexible or mobile workforce. The days of the 9:00 to 5:00 job are behind us, and more workers are actively looking for companies that support flex time, working-from-home, and telecommuting policies.
IDC predicts that the number of U.S. mobile workers will continue to grow over the next five years reaching 105.4 million workers by 2020, which is three-quarters of the U.S. labor force.
The "gig economy" is also on the rise and more workers are going out on their own to take advantage of the freedom of freelance work (or to help pay the bills in a tough economy). This poses a new dilemma for CT companies that often have to prove that a contract worker is not working as an employee. There are various criteria to define an independent contract worker, one of which is that "service must be performed either outside the usual course of business of the employer or outside the employer's places of business." Many companies work with independent contractors in the same fashion as flex employees, providing remote access to corporate data for the sake of efficiency and labor law compliance.
Whether a telecommuter or a contract worker, the number of Connecticut companies supporting a flexible workforce is increasing. Here are just a few that may surprise you:
With headquarters in Stamford and offices in Fairfield, Gartner is one of the leading technology advisory and research companies, assessing market trends and assisting clients with strategies to improve business practices. Although it is a Connecticut-based company, Gartner has offices around the world and employs 7,000 telecommuting associates and 1,500 analysts in 85 countries.
Harman designs, makes, and markets audio and "infotainment" products for both businesses and consumers. Some Harman brand names you may recognize include Becker, JBL, DigiTech, Soundcraft, and AKG microphones and headphones. The company has job openings all over the country, as well as a remote office, sales, and marketing positions in its Stamford headquarters.
Celebrating 400 years of Connecticut shipbuilding, the Mystic Seaport Museum not only features exhibits about America's maritime history, it also offers day camps, sailing programs, navigation and weather classes, art and music classes, and college and graduate programs. The Mystic Seaport Museum uses flexible workers for administrative work, graphic design, and other jobs to promote and support the Museum and Historical Association.
Although this nonprofit has its U.S. headquarters in Westport, they have flexible and telecommuting positions in Fairfield and around the country providing support services, donor management, fundraising management, partnership coordination, health and nutrition support, child safety and security, and much more.
Now an international baking goods brand, Pepperidge Farm was started by Margaret Rudkin 1937 in her own kitchen. Within a decade the Norwalk bakery became headquarters of what would become a global brand. Today Pepperidge Farms is selling chips, cookies, breads, and crackers around the world. The company offers a number of telecommuting and full-time jobs with flexible work in its Norwalk headquarters, including regional sales and branding positions.
The Waterbury Symphony Orchestra is committed to improving the quality of life for Connecticut residents through music. While you can't phone in a performance, the Symphony does offer a number of flexible positions with part-time and full-time positions in its Waterbury headquarters, such as managing the Symphony's web site and managing program schedules.
With a population of more than 3,000 students, Wesleyan is one of the foremost liberal arts universities in the Northeast with undergraduate and graduate programs in six disciplines. Graduates of Wesleyan have become leading artists, television producers, entrepreneurs, executives, attorneys, judges, and politicians. Wesleyan is located in Middletown, but offers a variety of flexible work positions in administration and departmental support.
WWE is a privately controlled entertainment company that has been promoting professional wrestling since 1952. With headquarters in Stamford, WWE operates regional offices around the world and offers a number of flexible and freelance jobs in promotion, sales, marketing, graphics, and other specialties.
These are just a few of the Connecticut companies that support a flexible workforce and remote workers. Of course, Connecticut also is the insurance hub of the world and leading underwriters such as Aetna, Hartford Financial, and Travelers also maintain a flexible workforce. Connecticut is home to manufacturers, health care providers, technology companies, and innovators in various industries. You'll find that more CT companies are supporting flexible work to attract the best talent available and stay ahead in their market.
If you are among those Connecticut companies that are seeking a new way to hone your competitive edge, consider expanding your reach with remote work and contractor options. Creating a secure computing infrastructure for a remote workforce isn't that difficult if you know what precautions to take. We are experts in supporting remote users and the mobile workforce and will be glad to show you the ropes.